Breeding Standards
As our mission statement indicates, we are breeding Llewellins to guarantee and improve the quality of hunting dogs. 2005 will be the first time we plan more than a single breeding in a year, and we do not anticipate ever planning more than 2-3 matings per year. We are a hunting kennel, not a breeding kennel. Therefore, we are not attempting to purify or maintain any of the existing lines of Llewellin Setter. Neither are we breeding with any particular eye toward improving performance in field trials. We are making wild bird dogs. Nothing exposes a dog's natural strengths and weaknesses like hunting wild birds in rough country.

To keep in line with our mission statement, we evaluate breeding stock on four critical criteria. We will select against any dog, which does not do the first three things naturally at an early age. We believe it is essential to weigh heavily a dog's natural ability, not just its trainability. The CRITICAL CRITERIA are:


| | |
| --- | --- |
| 1. | HUNT. Does the dog turn game and is it serious about doing so. How much "fire" and "heart" does the dog have. Is it bird crazy, or just enjoying a walk afield. |
| 2. | POINT. Does the dog point & hold the birds it finds. How strong is its natural instinct to do so. Does it have a natural honor. |
| 3. | RETRIEVE. Does the dog have a natural instinct to retrieve. How willing and able is the dog to "hunt dead." |
| 4. | BODY. Does the physical conformation further or hinder the foregoing performance tasks in rough country. |
Mindful of the realities of what we do and where we are located, our emphasis is on making agile, athletic dogs which will be more durable and effective in warmer weather conditions.


Health Program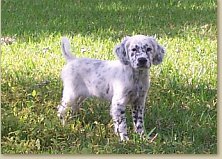 Our dogs see the vet at least once every six months for physical examination and required jabs. We use Ivomec for control of heartworms.

Our pups see the vet the morning after birth and again every three weeks until the 12th week. We guarantee that pups will be current on all recommended vaccinations until they are shipped. We cannot, however, accept responsibility for problems attributable to the stress of shipment or mishandling by the shipper. Delivery of the puppy should be at 7 weeks of age* and will include a current health certificate and health record from our veterinarian. The health record will include all immunizations (as well as recommended future appointments for immunizations) and worming.

* 8 weeks if delivered by air freight.


Hip Dysplasia
Hip Dysplasia is a problem in many dog breeds and the Llewellin Setter is no exception. We use the Orthopedic Foundation for Animals (OFA) exam for hip evaluation. While there are justifiable criticisms of this method, at the end of the day, it is a better and less subjective management tool than the breeder's eye. As a member of the North American Llewellin Breeders Association (NALBA), we are committed to providing a guarantee of no hip dysplasia for a period of three years on any puppy from our kennel. Our liability is limited to, and in no cases shall exceed, the purchase price of the puppy in question.

Our goal is to breed animals with certified OFA good or better hips unless there are compelling reasons for doing otherwise. We conduct provisional OFA exams on sire or dam prospects at 8-12 months of age and you may see provisional scores noted on several of our dogs. We will make kennel management decisions on those OFA provisional scores as necessary until a permanent OFA exam can be obtained after 24 months of age. Following is the explanation on the value of preliminary OFA exams from the OFA website.

"A recent publication compared the reliability of the preliminary evaluation hip grade phenotype with the 2 year old evaluation in dogs and there was 100% reliability for a preliminary grade of excellent being normal at 2 years of age (excellent, good, or fair). There was 97.9% reliability for a preliminary grade of good being normal at 2 years of age, and 76.9% reliability for a preliminary grade of fair being normal at 2 years of age. Reliability of preliminary evaluations increased as age at the time of preliminary evaluation increased, regardless of whether dogs received a preliminary evaluation of normal hip conformation or HD. For normal hip conformations, the reliability was 89.6% at 3-6 months, 93.8% at 7-12 months, and 95.2% at 13-18 months. These results suggest that preliminary evaluations of hip joint status in dogs are generally reliable. However, dogs that receive a preliminary evaluation of fair or mild hip joint conformation should be reevaluated at an older age (24 months)."


DNA Testing
Pursuant to FDSB requirements for registration of Llewellin Setters, all our breeding stock will be DNA profiled. Copies are available to purchasers of dogs from our kennel. We will also conduct DNA testing on every puppy that leaves the whelping box, thus providing the new owner with a guaranteed verifiable pedigree on his/her puppy.